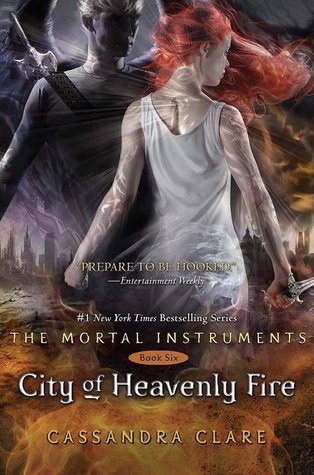 City of Heavenly Fire by Cassandra Clare
My rating: 4 of 5 stars
In this dazzling and long-awaited conclusion to the acclaimed Mortal Instruments series, Clary and her friends fight the greatest evil they have ever faced: Clary's own brother.
Sebastian Morgenstern is on the move, systematically turning Shadowhunter against Shadowhunter. Bearing the Infernal Cup, he transforms Shadowhunters into creatures out of nightmare, tearing apart families and lovers as the ranks of his Endarkened army swell.
The embattled Shadowhunters withdraw to Idris – but not even the famed demon towers of Alicante can keep Sebastian at bay. And with the Nephilim trapped in Idris, who will guard the world against demons?
When one of the greatest betrayals the Nephilim have ever known is revealed, Clary, Jace, Isabelle, Simon, and Alec must flee – even if their journey takes them deep into the demon realms, where no Shadowhunter has set foot before, and from which no human being has ever returned…
Love will be sacrificed and lives lost in the terrible battle for the fate of the word in the thrilling final installment of the classic urban fantasy series The Mortal Instruments!
Surprisingly good ending to this series.
I didn't have high expectations for this book, because it was a year ago I read the previous books and the more time passed, the more I thought they weren't that good. The only thing that kept coming to mind, was the weird 'You're my sister – you're not my sister – no, wait you are – no, wait, you aren't' thing that happened in some of the previous books.
(Fair warning ahead: if you haven't read City of Heavenly Fire yet, don't click on 'Continue reading', because there will be spoilers.)
But I have to say, this book was surprisingly good. Even though I had read The Infernal Devices series in between City of Lost Souls and City of Heavenly Fire and got some of the names and history confused, I still managed to work my way through City of Heavenly Fire without too much confusion.
I must say, I really liked the sudden plot twists that I didn't see coming – for example, I really though Maia was pregnant and not that see wanted to break up with Jordan. I also never saw it coming that Magnus' father would take Simon's memories. I did kind of figure the crew would somehow find a way to get Simon back, though. I also really liked Magnus and Alec's relationship in City of Heavenly Fire. I hated their break up (though I could pretty much understand Magnus), but I am so glad they seemed to have worked it out.
I am thinking of some things I was less happy with, but right now, I can't come up with anything. I read through the book in two days, so maybe I just missed the lesser things and focused on the things I liked and wanted to read – if that makes any sense. The only thing I was annoyed with, was that I didn't understand all the references to the history and some of the names that also appeared in The Infernal Devices confused me, but that's mostly my own fault.
All in all, I'm pretty happy with this last book in The Mortal Instruments series. I don't like all books in this series, but I appreciate the way the series ended (or didn't really end, because The Dark Artifacts???). It was a bit long and at times I got lost, because I didn't remember some things, but it was worth the read and I might read the whole series again sometimes, to see if I can adjust the way I think about some of the earlier books. As for now, I still have the Magnus Bane Chronicles to read and I look forward to The Dark Artifacts.