The last About books and movies I wrote, was back in January. I had no idea it has been so long! So, definitely time for another episode of About books and movies. I've seen a lot of movies since then and also (re)read a lot of books, but I've picked the ones that stood out the most. I've chosen four books and four movies to talk to you about.
As always, books go first. I have chosen four books, of which three books belong to series.
Allegiant, by Veronica Roth, is the first book I want to talk about. As most of you probably know, this is the third and final book in the Divergent trilogy. I remember very much enjoying reading Divergent, but the feeling got less when I read Insurgent and I waited a long time before I started in Allegiant. By then, I had already seen some major spoilers on Tumblr, so I knew what I was in for.
I had to check my Goodreads review to see what I thought about the book after just finishing it. In my mind, the story is kind of jumbled together with the plots of other dystopian trilogies (and we all know there's a lot of them out there). I remember feeling kind of 'meh'. I was a bit disappointed with the way the book ended. I didn't mind the big thing (I won't spoil), I thought that was very brave of Veronica Roth. But the ending seemed a bit rushed to me and I was a bit let down by this book. I might reread Divergent once, but I don't think I'll reread Insurgent or Allegiant.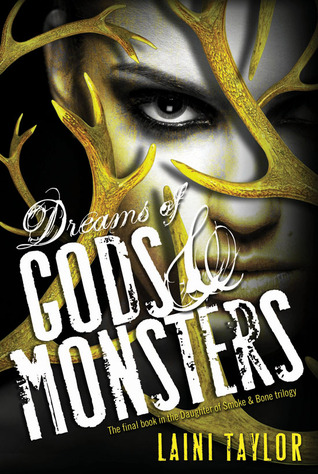 The second book, and also the third and final part of a trilogy, is Dreams of Gods and Monsters by Laini Taylor. It is the third book in the Daughter of Smoke and Bone series and this book, like Allegiant, was a bit disappointing. Maybe I waited to long after the second book to read this one, but it took me a long while to get back in the story. It's not like I didn't enjoy the book, but it could have been better. Sometimes I just skimmed over the pages because they couldn't interest me, but other times I couldn't read the pages fast enough, because I was so involved in the story.
I also realised that I've developed a strong dislike for love stories in YA. I couldn't care less about the relationship between Karou and Akiva. At some point, I was really irritated and just wanted them to finally do each other so I didn't have to suffer through more looks in which somehow they could see exactly what the other one was feeling and shit. This doesn't only count for this book, but it was in Dreams of Gods and Monsters that I realised my aversion. Luckily, I could skim over most of those parts and still enjoy the rest of the book.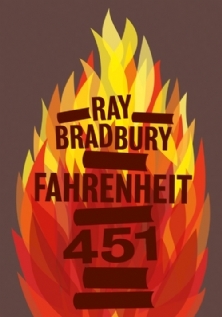 The third book I read, is Fahrenheit 451 by Ray Bradbury. When I finished this book, I felt just as I felt when I had finished 1984 by George Orwell. It's got the same sort of vibe and theme. It took me a long time to finish Fahrenheit 451, even though the book only has about 100 pages. Classics are incredibly hard to get through and I don't always enjoy it, but I do appreciate the books. Like 1984, this book scared me. The idea that it holds, the future that it represents. It scares me.
The final book I read is The girl who played with fire by Stieg Larsson. I read this book in Dutch (De vrouw die met vuur speelde), because I borrowed it from my mother and she owns mostly Dutch books. As with the first book in this series, I was highly impressed. I don't normally read thrillers, but I thoroughly enjoyed this book (and the one before, so I'm looking forward to the next book). The books are very big, so it takes me a while to finish them, but when I'm reading, I get totally sucked into the story  and can't put the book away.
Those were the four books I chose to talk about this time. I've read many more books, but I don't remember all of them well enough to talk about or want to do a separate blog post about them.
Next up are movies! I've also chosen four movies, so here we go.
First off, I watched Carrie. I know it's a book-to-movie adaptation, but I haven't read the book (yet). I didn't really know what the movie was about before I started watching it, I had to go on the trailer. It pleasantly surprised me, though I don't really get all the fuss about Chloë Moretz. She's fine, but really, she's not that special?
The next movie I watched,  was 12 Years a slave. Very impressive movie, even more since I went to watch this in the cinema. I reckon a lot of people have seen this movie by now. I enjoyed it (though I don't know if enjoyed is the right word), but I wasn't as shocked as other people were. One particular scene, with the whip, didn't gross me out as much as it probably should have. I realise it was horrible and I would never be able to endure it myself, but I've just seen too many movies or series with worse scenes (Hannibal. Definitely Hannibal). Also, some scene just seemed to take very long. I understand that's meant as an effect or time-lapse or anything, but staring at the main character's face for a full minute while a fly is flying around him, doesn't really appeal to me. Maybe I'm just used to different movies. All in all, it was still a very impressive movie.
I also watched the movie adaptation of Vampire Academy. I am a big -huge- fan of the books (and can't wait for the next book to come out in the Bloodlines series, which is a spin-off from the Vampire Academy series), but I'm not such a big a fan of the movie. It was alright, though. I had read some reviews online before watching it and they really stomped the movie into the ground and I didn't think it was that bad. Sure, it could have been better (Why so much like Mean Girls? Why does Lissa's face have that shape? Couldn't they have picked a more handsome actor to play Dimitri? WHAT IN THE HELL ARE THOSE STRIGOI?), but it wasn't as bad as it's made out to be. At least they got an actual Russian actor to play Dimitri. I'm secretly hoping for the second book to be made into a movie too, but I doubt that's going to be realised.
The last movie I saw, was V for Vendetta. It wasn't the first time I watched that movie and it will definitely not have been the last time. I really love that movie and the idea it stands for. If you haven't seen it, I highly recommend you change that. If you liked reading 1984 or Fahrenheit 451, you might enjoy this movie too.
And that's it! I probably won't wait another seven months before writing the next About books and movies, though I can't make any promises.