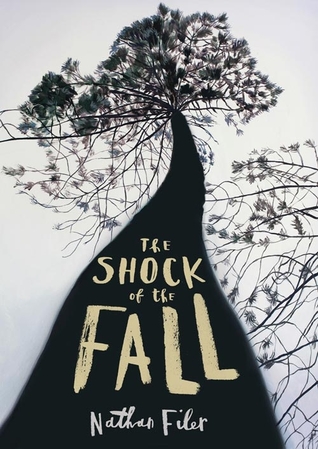 The Shock of the Fall by Nathan Filer
My rating: 4 of 5 stars
'I'll tell you what happened because it will be a good way to introduce my brother. His name's Simon. I think you're going to like him. I really do. But in a couple of pages he'll be dead. And he was never the same after that.'
Okay wow.
I bought this book after only reading a description on a website and it turned out to be a very good decision.
This book is most definitely not like other books I've read. For one, it doesn't shy away from the subject of mental health. Quite the contrary, the books revolves around the main character and his mental health.
I've always been very interested in mental health problems and even though this book is just fiction, it was very interesting to read. Last year, I had a course about mental health and mental health problems and that was one of the most interesting and revealing courses I've ever followed. It's just so flabbergasting what a brain can (or cannot) handle and I think it's very intriguing to learn about the brain.
So yes, I will probably stick to this theme a while. I've learned about the facts and now I want to read some more about the experiences of people with mental health problems. I will keep an eye out for what's fiction and what's based on true stories (will absolutely read some (auto)biographies involving mental health problems). I don't think one could ever know or read too much about these kind of subjects, seeing as mental health problems are still a bit of taboo. It's important to talk about mental health problems and to acknowledge that they're just as real as physical diseases. I think talking about books revolving around mental health problems is a way to make this subject more approachable.
One thing I liked about the book, was the use of different kinds of fonts and the sometimes sudden transitions between subjects. It confused me, which is probably exactly what the author wanted to accomplish.
I can understand not everybody might find this book interesting of easy to read, but I liked it. It has a slow build up to the end, but it a well-built build up, which keeps the book interesting. I kept wanting to read on to see what happens to the main character. It didn't go out with a bang, but I don't think that would've added anyhting anyway.
So, conclusion, good book, interesting topic, would definitely recommend!